Greater Manchester Police have confirmed the explosion at Monday night's Ariana Grande concert at Manchester City Arena was a terror attack, with the perpetrator dying in the explosion. The death toll has risen from 19 to 22, and children are confirmed amongst the dead.
At least 22 people have been confirmed dead and 59 people injured in the attack are being treated across 8 hospitals in the Greater Manchester area. The suicide bombing is the biggest terror attack on British soil since the 7/7 terror attack more than 10 years ago.
Concert goers were exiting the venue, which has a capacity of 18,000, following a concert by American pop star Ariana Grande when an explosion took place at around 10:30 pm. Manchester Arena said the incident happened outside the venue "in a public place", whilst others said it happened close to the ticket offices in the foyer area.
Eye witnesses report hearing "huge bangs" and describe a stampede with people "running and screaming" from the arena, some covered in blood, the Manchester Evening News reports.
Paramedics described "shrapnel-like injuries" to victims.
Eyewitness accounts reveal horror of Manchester Arena explosion following Ariana Grande concerthttps://t.co/kT7I7EUmwB pic.twitter.com/UNIXtx4EYn

— BBC Breaking News (@BBCBreaking) May 23, 2017
Ariana Grande's fan base is mostly young girls and teenagers. Police have confirmed children were amongst the dead. Several young people have been reported missing following the explosion, with friends and family reaching out on social media appealing for information.
broken.
from the bottom of my heart, i am so so sorry. i don't have words.

— Ariana Grande (@ArianaGrande) May 23, 2017
Chief Constable of Greater Manchester Police Ian Hopkins said it was believed that the attacker – a lone male who died at the scene – was carrying an improvised explosive device.
In a statement released Tuesday morning, Chief Constable Hopkins said: "We have been treating this as a terrorist incident and we believe, at this stage, the attack last night was conducted by one man. The priority is to establish whether he was acting alone or as part of a network.
"The attacker, I can confirm, died at the arena. We believe the attacker was carrying an improvised explosive device which he detonated causing this atrocity.
"We would ask people not to speculate on his details or to share names. There is a complex and wide ranging investigation underway.
"Our priority is to work with the National Counter Terrorist Policing Network and UK intelligence services to establish more details about the individual who carried out this attack."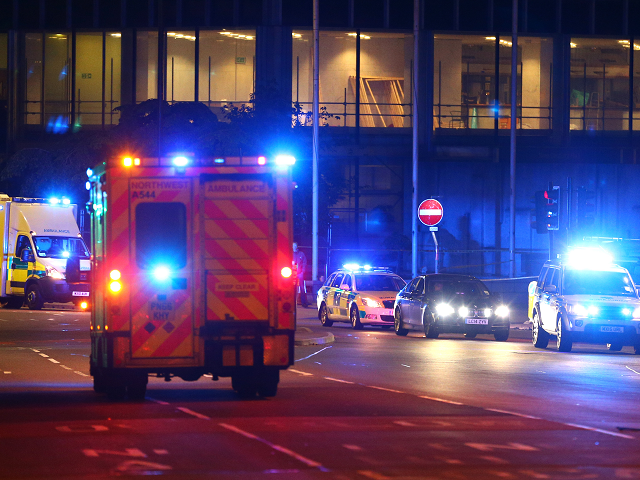 Investigators are trying to establish whether the terrorist was part of a wider network.
A cordon will remain in place around Manchester Arena and Victoria Train Station for some time whilst a forensic search is undertaken.
Home Secretary Amber Rudd called the incident a "barbaric attack" and will attend an emergency meeting of the Government's crisis response committee, COBRA, chaired by Prime Minister Theresa May Tuesday morning.
Prime Minister May said her thoughts were with the victims and families of those affected and has condemned "what is being treated by the police as an appalling terrorist attack".
Emergency numbers have been established by Greater Manchester Police for anyone who is concerned for loved ones who may not have returned home 0161 856 9400 or 0161 856 9900.